School Mission
'We in Mitchell House value ourselves and others. We strive to show this by respecting ourselves and each other as individuals, respecting each other's rights as individuals, fulfilling our own responsibilities and helping others fulfill theirs."
About Us
Mitchell House is an Education Authority Belfast Region co-educational special school for children with physical disabilities. Most of our students have an associated learning difficulty to some degree.
Latest Photos...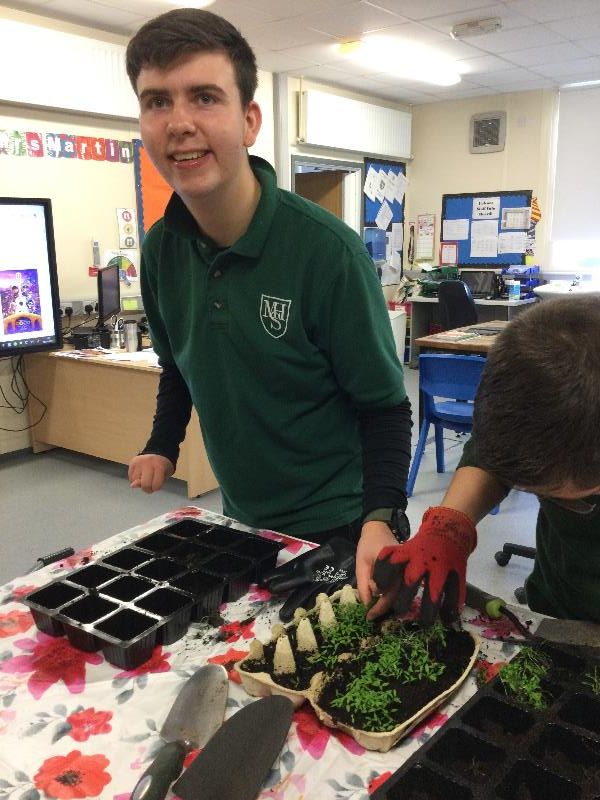 They are actually growing!!!
Waiting on instructions!
This soil is going to be everywhere!
Teeny tiny seeds!
Upcoming Events...
Wednesday, 17th March 2021
St Patrick's Day
School Closed
Thursday, 18th March 2021
Annual Review Meetings (Parents will be notified of individual times)
Friday, 19th March 2021
Annual Review Meetings (Parents will be notified of individual times)
Monday, 22nd March 2021
Annual Review Meetings (Parents will be notified of individual times)
Tuesday, 23rd March 2021
Annual Review Meetings (Parents will be notified of individual times)
Wednesday, 24th March 2021
Annual Review Meetings (Parents will be notified of individual times)
Thursday, 25th March 2021
Annual Review Meetings (Parents will be notified of individual times)
Friday, 26th March 2021
Last day of Term 2 (School ends at 12:30pm - dinners available)
Annual Review Meetings (Parents will be notified of individual times)
Monday, 29th March 2021
Easter Holiday (School Closed to Pupils)
Tuesday, 30th March 2021
Easter Holiday (School Closed to Pupils)
Wednesday, 31st March 2021
Easter Holiday (School Closed to Pupils)
Thursday, 1st April 2021
Easter Holiday (School Closed to Pupils)
Friday, 2nd April 2021
Easter Holiday (School Closed to Pupils)
Monday, 5th April 2021
Easter Holiday (School Closed to Pupils)
Tuesday, 6th April 2021
Easter Holiday (School Closed to Pupils)
Wednesday, 7th April 2021
Easter Holiday (School Closed to Pupils)
Thursday, 8th April 2021
Easter Holiday (School Closed to Pupils)
Friday, 9th April 2021
Easter Holiday (School Closed to Pupils)
Monday, 12th April 2021
Term 3 begins (Full normal day - dinners available)
Monday, 3rd May 2021
Bank Holiday
School Closed
Mitchell House School Marmont Park, Belfast, County Antrim BT4 2GT | Phone: 028 9076 8407